Modern Driveway Ideas [An Inspiration Guide]
Discover all of the different ways concrete can go to work for you with style and function in your new driveway.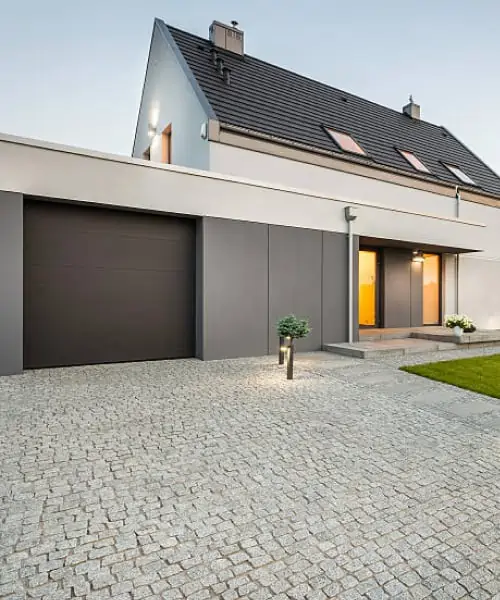 Driveways are part of the first impression that is made on anyone who pulls up to the front of your Melbourne home. From potential buyers to a pesky mother-in-law and everyone in between, driveways are a way to put your best foot forward. 
And the good news is that not all concrete driveways are created equal. 
Sure, there's plain concrete which is a staple in building circles for its versatility and durability. But you aren't boxed into a basic driveway just because you're considering concrete. Concrete actually lends itself to a number of different designer touches. So let's take a look at some modern driveway ideas and get inspired together!
If you want to learn more about concrete driveways, check out our resources:
1. How Much Does a Concrete Driveway Cost
2. Asphalt vs Concrete Driveways: Why Concrete Is Often the Better Choice
3. How Long Does It Take for Driveway Sealant to Dry?
4. Concrete Driveway Installation
5. What Are The Most Common Types of Concrete Driveways?
Modern driveway ideas for your home
These days, modern designs are all about monochromatic colours, compatible textures, and linear designs. 
And concrete can do all of this. It's just a matter of making sure that you go with a professional installer that has the experience and knows how to execute on the design of your dreams. 
1. Coloured concrete
Poured concrete doesn't have to be grey, although a smooth and matte finish grey drive can certainly scream modern. Consider tinting your concrete or going with two-tone elements for a contrasting pattern or border design that will make your driveway come alive with design. Coloured concrete comes in a variety of hues that can compliment and contrast any home design, landscaping, or other hardscaping in your front garden.
2. Stamped concrete
Want the look of stone or brick without the cost? 
Stamped concrete is a much more affordable option and with the smooth texture of concrete, it also has a more modern appeal than traditional brickwork. Since you're starting with a blank slate, you can have near limitless options to choose from when it comes to the design you want stamped into your driveway. Patterns can be matched to other hardscaping or house details or can be unique depending on your interests. Stamping concrete can also mix well with coloured concrete to give a more natural and modern feel. 
3. Pave cut concrete
Uniform pavers placed in a modern layout can have a contemporary feel. But they can also have a high price tag. That's where pave cut concrete comes into play. The concrete is poured in a single smooth slab (in the colours of your choosing) and allowed to completely cure and dry. Once hardened, patterns are cut into the concrete itself using high-powered saws and other equipment for a uniform finish. 
4. Irregular or gapped
While many homeowners prefer a single slab in some form or another, a modern design that is becoming more popular is irregular concrete. This pattern includes gaps, or cut outs, in the driveway itself where instead of concrete, grasses or plantings are allowed to grow. The effect is samplings of green amid a predominantly grey or poured concrete driveway 
5. Combining techniques
There's no reason that you have to choose just one of these options to come up with your modern driveway ideas. In fact, many of them are complementary to one another since concrete is so versatile. 
Consider using poured and smooth concrete (coloured or not) as a border for your driveway and then going with a stamped concrete for the majority of the surface. This can give the effect of brickwork without the work and cost of it. Another option is to colour your concrete and then pave it to have a novel geometric and asymmetric design. 
The options are really limitless. 
How to decide on a concreter for your job
When it comes to modern designs and concrete, it can be all about the portfolio (check out ours here). 
As you interview professionals, ask to see their gallery of completed work. Look for designs that mirror or resemble your modern aesthetic to be sure that whatever your dream is, they'll be able to deliver on it. 
This is also where references are important. Ask for local examples of similar projects and for customer references you can talk to about the process. You'll want to know how the contractor was to work with from the start with design to the finish with the actual installation of the driveway. You can also look for social proofs online to see what former customers have had to say about their experiences. 
Once you are assured that the concreter understands your vision and can deliver on it, be sure to get down to the more logistical details:
"How many years have you been in business?"
"Are all of your employees licensed and insured?"
"Do you outsource any of your work?"
"What warranties do you include in your projects?"
"How long will a project like mine take to complete?"
"Do you take care of any required permits?"
"What accommodations are made for waste removal?"
"Do you also seal coat your work?"
"Do you offer free estimates?"
"Can you help me design a driveway from sample ideas?"
Still need a little help? Find out how to find the best concreter in Melbourne here
Getting started with your modern driveway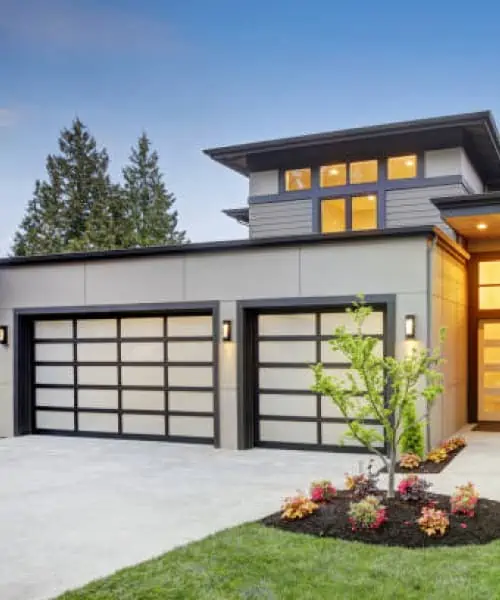 The start of any project is the idea phase, and hopefully this guide has helped the wheels get turning when it comes to all the different options concrete can offer. Don't be shy about clipping or bookmarking samples of things that stand out to you for driveway design. Chances are that even if they aren't made with concrete, a professional concreter will be able to replicate or create a one-of-a-kind design inspired by it for you. 
At Concept Concrete, we're all about putting concrete to the test when it comes to design. Our expert team has ample experience with modern and custom designs concreting. We're all highly trained, experienced, and creative individuals who are ready to take on any project you have in mind for your contemporary driveway project. 
Oh, and if you want to save money, here's how you deliver a stunning concrete driveway on a budget.
We also pride ourselves on making the entire process as seamless as possible for our clients. As a family run business, we understand that disruption to the home can add stress, so we provide complete project plans and guaranteed quotes. This way, you can count on us to deliver what you expect at a price you can count on. To get started or to learn more about our driveway design services, call us on 1300 366 343 or request a quote online today!
Up to 78 month warranty on structure
We have an excellent reputation for high quality, reliable and professional service
Family owned and run business
High Quality and professionally done projects
Modern and custom concrete design
Hassle-free and fast turnaround projects
Get onsite quotes – guaranteed
Proud member of Master Builders Association
Registered Building Practitioner
Highly trained and experienced concrete company.
Our Recent Commercial Projects
Get A Quote
Choose us if you're looking for professional, quality workmanship and experienced concrete company.