Melbourne's Trusted Concrete Driveway Paint Services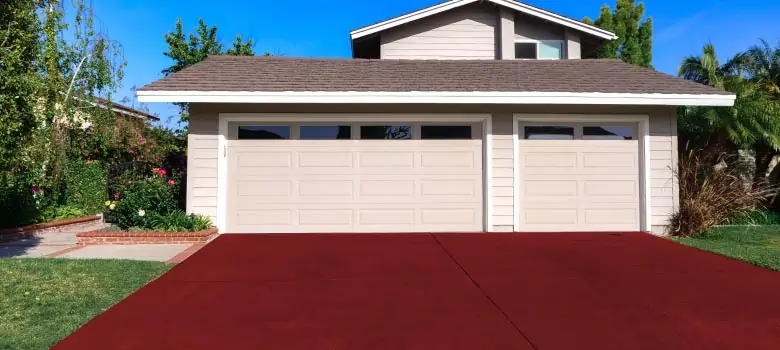 Are you tired of your concrete driveway's dull look? An easy and affordable way to breathe new life into it is with a coat of paint.  
A driveway is one of the very first interactions that people have with your house. Not only does it help to set the tone of the visit, but it also needs to stand up to heavy traffic. Then, the beating from the sun or rain can also start to take its toll. 
Yet, a driveway is often the last element that gets attention. 
That doesn't need to be the case though. Updating or maintaining your concrete driveway isn't a costly or time-consuming project. For example, just by painting it, you can improve its current look and the overall value of your property should you decide to sell it later. 
If it's time to pay attention to your driveway, the team at Concept Concrete is ready to help. Our professional tradespeople have an excellent reputation for maintaining and transforming driveways. Reach out to our highly trained team on 1300 366 343 for suggestions on the way forward for your driveway. We can also provide fast, free quotes for any concrete job you need to get completed. 
Do driveways need to be renovated?
It's quite common for driveways to start looking run down. After all, they're subjected to frequent vehicle traffic. 
Can a driveway ever become dated, though? Other than repairing a crack or two, will it ever be necessary to do something more?
If you opted for a modern design when building your driveway, the chances are greater that you'll find your driveway design has become old-fashioned since it was first installed. However, if you opted for more practical driveway ideas, like a concrete driveway, for instance, the good news is that you have a timeless classic. In fact, if it was initially designed and installed by trained professionals, a concrete driveway can still look relevant after a decade. 
That said, if you opted for a plain concrete driveway over, for example, exposed aggregate concrete, and want to reduce how much effort is needed to keep your concrete driveway still looking great for many years, it can be a good idea to paint it, too.  
Steps to painting a concrete driveway
While painting a concrete driveway is not as costly, it's more difficult than painting most indoor spaces. Here are the key steps you need to complete, if you wish to paint your concrete driveway in Melbourne:
Clean the surface
The first step before you can tackle any painting project is to clean the surface. This is critical as the paint won't bond properly if the surface isn't completely clean. When painting a driveway, this can be challenging as there will most likely be oil stains that will require some elbow grease to remove. If it's currently painted and you simply want to repaint it, you'll also first need to strip the old paint before it will be ready for its new coat.
Repair any cracks
After the surface has been cleaned and the concrete has dried, it's time to repair any visible cracks or holes. It's not uncommon for imperfections to appear over time. As a driveway is subjected to the elements and water, the surface will expand and contract which can cause it to crack. Even if you're not planning on painting your driveway, it's better to repair these sooner than later. 
Grab your paint brush
Once the surface has been cleaned, signs of damage were fixed, and everything has dried again, the painting can start. It's best practice to start by painting all the edges with a paintbrush (depending on the layout, masking tape might be needed to protect exterior walls and garage doors from paint). The rest of the driveway can be painted with a paint roller.
After the first coat has dried (this can take up to a day), a second coat can be applied. After about a week, your newly painted concrete driveway will be ready to welcome visitors and vehicles. 
Can I paint my driveway myself?
So you've painted a bedroom yourself over the weekend and you're ready to tackle your next project — that driveway that's been bothering you for quite some time now. If you've done one paint job, you've done them all, right? Wrong. 
While painting your concrete driveway might sound like a pretty straightforward DIY job, it's more intricate than painting the interior walls of your home. There are a few considerations to keep in mind. 
Firstly, preparing the surface is much more difficult. Unlike interior walls that mostly have a few smudges (and perhaps a crayon drawing), a driveway most likely has oil stains that make cleaning a concrete driveway more challenging. 
Secondly, as it's subjected to frequent heavy traffic, the surface might also need more serious repairs. Extremes in temperature, which is common in Melbourne, can cause it to heave, crack, or flake. If not addressed by a professional who knows the right products and procedures to use, it can compromise the overall integrity of the driveway.  
Lastly, painting a floor (which a driveway essentially is), is much more challenging than painting a wall. If you paint without a plan, it's easy to paint yourself into a corner. 
Considering all these sticky and tight spots you could find yourself in, it's best to leave this type of job to trained professionals. While you might only have to pour minimal wet concrete, it's a job that can be more time consuming than you anticipate. 
Call Concept Concrete to paint your concrete driveway
There's no reason that your driveway needs to be neglected. With a coat or two of paint, it can look just as good as the exterior of your property. 
The team at Concept Concrete in Melbourne is just a quick phone call or short email away. From coloured concrete to exposed aggregate concrete, we're trained and experienced in all things concrete. We take great pride in how we implement modern design and leverage state-of-the-art products that are functional as well as sustainable. 
Not only are we experienced, but our excellent reputation for delivering high-quality results on time makes us one of the leading concrete companies in Melbourne and surrounding areas. You can rest assured knowing that we're a registered building practitioner and, for added peace of mind, we offer a warranty of up to 78 months on structure. 
Let us take care of painting your concrete driveway while you paint the town red. Call us on 1300 366 343 to learn more about our services or request a free quote online today.
Up to 78 month warranty on structure
We have an excellent reputation for high quality, reliable and professional service
Family owned and run business
High Quality and professionally done projects
Modern and custom concrete design
Hassle-free and fast turnaround projects
Get onsite quotes – guaranteed
Proud member of Master Builders Association
Registered Building Practitioner
Highly trained and experienced concrete company.
Get A Quote
Choose us if you're looking for professional, quality workmanship and experienced concrete company.