Durable Exposed Aggregate Concrete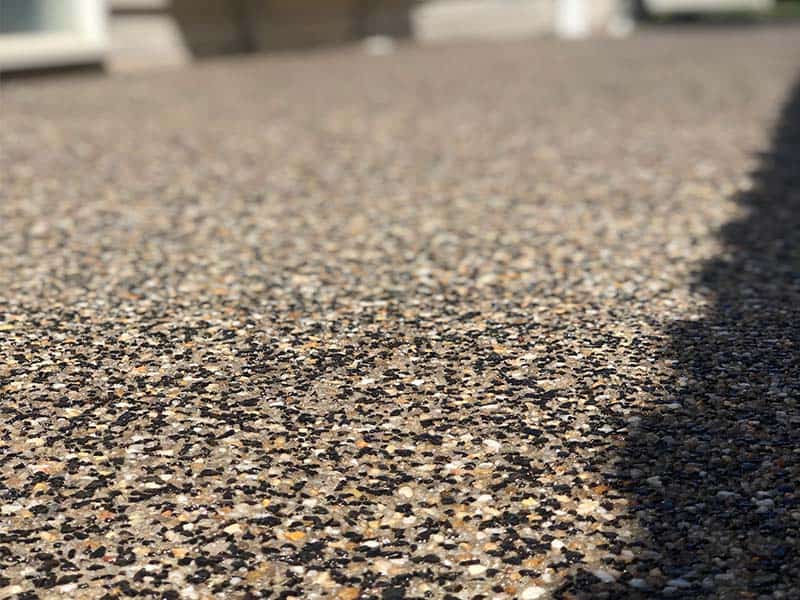 Looking for a striking surface with unmatched performance potential? We've got the tools, talent, and team to help.
Exposed aggregate concrete is a form of decorative cement created by removing the uppermost layer of cement and exposing the underlying aggregate. This process makes the decorative aggregate highly durable, as well as skid and slip-resistant. With a raw and natural aesthetic, it's never been easier to add personality and character to your home.
Ideal for pathways, driveways, pool decks & patios, we specialise in giving your home a 'WOW' factor that will make the neighbours jealous while you enjoy a hard-wearing surface that can handle everything your family throws at it.
Long gone are the days when home pavement was grey, boring, and lifeless. If you're ready to elevate your living space, reach out and speak to a member of our residential concreting team on 1300 366 343 today.
Concept Concrete specialises in the removal or replacement of concrete. We don't offer repair and resurfacing services. Sorry for any inconvenience.
If you want to learn more about exposed aggregate concrete, check out our resources:
1. How Much Does Exposed Aggregate Concrete Cost
2. How to Choose the Best Exposed Aggregate Concrete Surface
3. Plain Concrete vs. Exposed Aggregate: How to Settle the Debate
4. Exposed Aggregate vs. Stamped Concrete: What's Best For You?
5. Is Exposed Aggregate Concrete Worth It?
What Are the Advantages of Exposed Aggregate?
Patios, driveways, pathways, pool decks – these high-foot traffic areas of your home need a blend of durability and performance. Don't waste money on sub-par surfaces that crack, chip, and stain when you can choose a timeless finish that looks as stunning today as it will five, ten, or thirty years from now.
A seamless mixture of durability, style, and flexibility, we offer custom aggregate solutions by laying your preferred stones or styles on the surface before it hardens. The result is a surface that's harmonious with your home's decor, and able to stand up to everything you throw at it.
Our solutions are one of our most popular finishes for its premium and contemporary appearance. Using a variety of quality materials and components, we have a vast range of colours and textured aggregate to suit your property's designs and landscapes. Discover more about our innovative batch mixing technology and unlock a true one-of-a-kind surface today.
How Is Exposed Aggregate Concrete Created?
Exposed aggregate concrete uses the natural textures of various materials like pebbles, shells and crushed stone. When we lay a new surface, whether aggregate, plain or coloured concrete, our customers know it will look great for many years regardless of the weather, impact, or foot traffic.
If you want to achieve a dramatic and professionally done surface that will last for many years, we can help you. We're Melbourne's top concreters that you can trust and depend on. We're trained, experienced and highly professional, with obligation-free site assessments available to learn more about your home's needs, budget, and goals.
We're one of the few concreters who offer up to a 78-month warranty. For all your needs in Melbourne, call us on 1300 366 343 or book online 24/7.
How Much Does Exposed Aggregate Cost?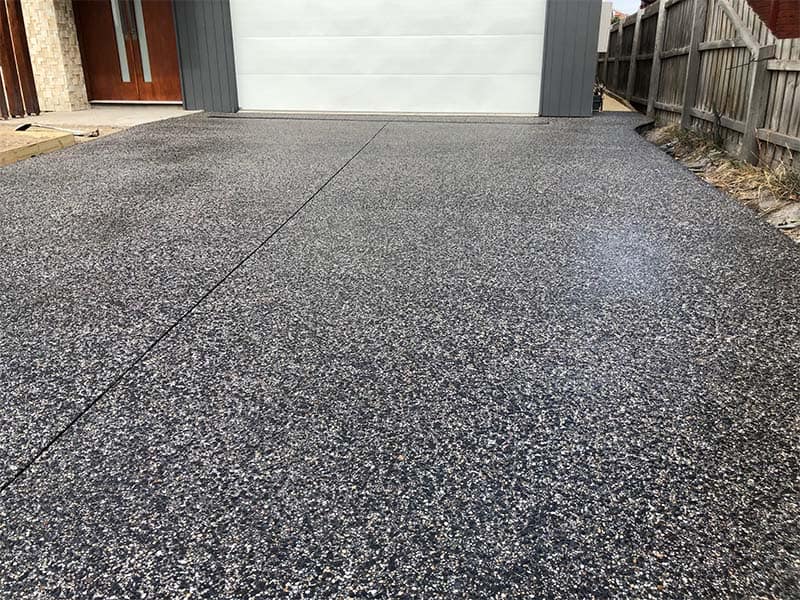 The average cost of an exposed aggregate concrete surface falls between $100 to $150 per m2 in Melbourne. However, there is a range of variables that influence your final price including the size of your driveway or floor, the complexity of the job, your chosen aggregate, and the skill of your installation team.
One of the advantages is the unlimited design options at your fingertips. The more detail you add, the more your price increases. For example, you can choose from:
Standard or special class concrete mixes
Different aggregate stones (e.g. pebbles and shells)
An array of coloured finishes
Special finishes (e.g. polished or honed pavement)
To learn more about the cost of this striking home upgrade, check out our Ultimate Price Guide [Melbourne Edition]
Exposed Aggregate Concrete: Pros and Cons
| Pros | Cons |
| --- | --- |
| ✔ Choose from a wide variety of decorative aggregates | ✘ Decorative stones may be more prone to damage |
| ✔ Stunning visual statement at a cost-effective price | ✘ May be tough to blend repairs with the previous aggregate finish |
| ✔ Low-maintenance and can be cleaned easily with water | ✘ Requires sealing once every two years to maintain strength |
| ✔ Durable, hard-wearing, and ideal for foot and vehicle traffic | ✘ Dirt and debris may get stuck between aggregate surface |
Exposed aggregate concrete is very different from standard concrete, so it helps to know what you'll be paying for.
Typically, the top layer of concrete is removed, either exposing the aggregate underneath or allowing for aggregate to be added.. This aggregate is generally made of stone, gravel, sand, and other materials and is exposed to reveal unique colours, shapes, and textures.
There are many benefits, including:
✔ Offers optimal traction and stability if you're dealing with mud or rain
✔ Extremely durable and less susceptible to cracks and potholes
✔ Increase your home's curb appeal, aesthetic and resale value
✔ Easy to maintain which means less work for you, and savings over time
In short, you're paying for a durable surface that can last up to 30 years with the right care and maintenance. On top of strength, this solution is characterised by its visually eye-catching beauty.
If creating unique designs, modifying new patterns, or having the most striking concrete surface in your neighbourhood excites you, then you'll love your investment in this type of concrete.
Check Out These Benefits…
Extremely durable and visually appealing

Professional finish and can last for many years

10x more slip-resistant than other types

Customisable in different textures and colours

Next to no maintenance or upkeep

Can withstand heavy foot and vehicle traffic

Can resist Victoria's harsh climate

A Cost-efficient way to transform your home
If you are looking for professionally done pavement near you, please call us on 1300 366 343.
Frequently Asked Questions About Melbourne Exposed Aggregate Concrete
How often should you conduct sealing?
Every 12 to 36 months. This timeline will depend on the weather and volume of traffic (both foot and vehicle) with transparent sealers offering protection against the elements. Film-forming acrylic resins are the most common sealant to protect against impact damage and stains, while accentuating your pavement's depth and finish.
Do you offer warranties?
Yes. As proud members of the Master Builders Association we let the quality of our work speak for itself. We offer an industry-leading 78-moth warranty on all structures.
How long does this concrete finish last?
The average lifespan of a driveway or floor can reach 30 years with care and preventative maintenance. As with any surface, your exact lifespan will depend on your maintenance routine. For example, high-powered pressure washers may dislodge aggregate stones, or vehicles may chip your surface and encourage cracks. However, with ongoing sealing and cleaning, you can enjoy your new surface for 10, 20 and even 30 years.
Where is this type of concrete useful?
Is exposed aggregate concrete great for all outdoor spaces?
Put simply – yes.
It's important to remember that this solution is extremely durable and skid resistant, as well as more suited to heavy traffic (both foot and vehicle) than natural stone. This makes it an ideal choice for a variety of spaces, including:
Patios 
Pool decks
Driveways
Plazas 
Footpaths
Garages 
This concrete finish can even be used on walls — like retaining walls, building facades, or tilt-up panels. In short, if you have an outdoor space that requires long lasting flooring, with an eye-catching finish, you can use this type of concrete.
What areas are suitable for this type of pavement?
This is popular across residential and commercial settings throughout Melbourne. The combination of striking looks and advanced performance makes it suitable for a range of settings, including:
Outdoor Entertainment Areas
How long does it take for exposed aggregate to dry?
It can dry in a few short hours – meaning minimal disruption to your routine. However, you'll need to wait approximately 24 hours for your new surface to fully cure. And as this material may be susceptible to damage for the following four weeks, it's recommended you avoid placing excess weight on your new surface, for example the family car, for at least 10 days.
How is the concrete installed?
Now that you know exposed aggregate concrete is more expensive than plan concrete, let's unpack why.
With normal class concrete, or a standard poured concrete, the concrete is simply poured and smoothed – either with a broom finish, chopper finish or most commonly stipple finished, and that's the job done (outside of stopping any curious pets or kids from stepping in the fresh concrete).
With Exposed aggregate concrete, there are several more steps: 
Step One: Aggregate materials are chosen and mixed into the concrete base.
Step Two: Concrete is poured and smoothed with a trowel.
Step Three: While the surface is still wet, installers spray it with specially formulated chemicals to keep the top layer — which surrounds the rocks and pebbles that you want exposed — from solidifying.
Step Four: The concrete is then left to cure, most common practice is to return the day after to remove the top layer and expose the aggregate underneath
Step Five: After we have washed off the concrete, we still have a few more steps to do! This include saw cutting the concrete, acid washing and finally sealing the concrete.
As you can see, there's a lot more at play when laying and processing the concrete. But that extra cost delivers a surface engineered to last, look great, and maybe even make the neighbours jealous no matter which Melbourne suburb you call home.
Can I go down the DIY path on my next concrete project? 
We highly recommend you don't try to DIY your concrete project if you're not a trained professional.
As we mentioned, laying and setting exposed aggregate concrete is a complicated, multi-step process that requires work with dangerous chemicals. Such chemicals should never be handled without proper training.
What's more, concrete can be tricky: each type of concrete needs to be mixed with the right amount of water. Too much or too little and you could wind up with concrete that cracks, crumbles, and doesn't last.
Having to re-do a poor job will require that you end up spending all the money you were trying to save, and that's not worth it in the long-run!
Why choose us for your next home improvement project?
With a range of Melbourne concreters and driveway specialists, we recommend comparing us with the rest. We're confident you'll find leading value and unmatched customer service. Explore the top reasons our customers love working with our skilled team:
Up to 78-month warranty on all structures

Modern and custom-designed concreting

Registered Building Practitioner

Highly trained and experienced professionals
Insured & licensed concreters

Family owned and run business

Affordable and competitive rates

Hassle-free and fast turnaround projects
Our Exposed Aggregate range
Addison
Concept Addison
Concept Addison Black
Madison
Madison Black
Concept Madison
Concept Madison Bay Brown
Concept Madison Black
Concept Merinda
Concept Merinda Desert Sand
Concept Porepunkah
Concept Porepunkah Black
Concept Santa Cruz
Concept Santa Cruz Black
Concept Soho
Concept Soho Black
Up to 78 month warranty on structure
We have an excellent reputation for high quality, reliable and professional service
Family owned and run business
High Quality and professionally done projects
Modern and custom concrete design
Hassle-free and fast turnaround projects
Get onsite quotes – guaranteed
Proud member of Master Builders Association
Registered Building Practitioner
Highly trained and experienced concrete company.
Get A Quote
Choose us if you're looking for professional, quality workmanship and experienced concrete company.