Melbourne's Textured Concrete Specialists
Like the look of brick or natural stone but looking for a solution that's more affordable and easier to maintain?
Textured concrete could be the answer.
As one of the most common types of concrete and a popular choice for driveways in Melbourne and across Australia, textured concrete can give the appearance of brick, stone, or even wood for the ultimate strength and design flexibility.
The expert team at Concept Concrete is experienced in delivering various types of concrete services, including concrete for domestic and commercial projects. We're ready to help you install the concrete surface of your choice, so put our quality to the test.
For a fast, free quote, call us on 1300 366 343 or simply complete our online form today!
What is Textured Concrete?
Texture concrete is a highly decorative finish, but it can also serve a functional goal. This finish is formed when a trained concreter lays a pattern into the wet concrete mixture. One of its major attractions is its uniqueness, making it one of the best ways to get your driveway, patio, or pool deck to stand out.
With a textured finish, you can enjoy an even more unique look than stamped concrete (which is similar). However, with a less uniform appearance than stamped concrete, a textured finish delivers more customisation options.
Types of Textured Concrete Explained
There are several different types to match your budget and personal preferences. Some of the most popular types include:
Trowel finish
For soothing swirls, you can opt for a trowel finish. It creates a look of repeating crescents and depending on the tool used, the texture can be smooth, medium, or coarse. It's simple, practical, and, of course, beautiful to look at.
Broom finish
If you prefer lines over swirls, the broom finish will sweep you off your feet. Depending on the type of bristles used, they can create light or coarse textured lines across the concrete surface.
Rock salt finish
By applying water-softener salt crystals, a concrete surface with small holes is created. It's a great option if you like a weathered look.
What Benefits Does This Type of Concrete Offer?
Concrete is known for its durability, and textured concrete is no different. As one of the most long-lasting surfaces, whether used for indoor or outdoor settings, you're not sacrificing longevity by choosing this eye-catching finish. Built to last, your textured surface will withstand many potential threats with proper maintenance. You can also use textured concrete to mimic other expensive materials like slate, stone, or wood. This provides the ideal flexibility to suit any home or business design and decor. 
How Much Does Textured Concrete Cost in Melbourne?
For a textured surface, you can expect to pay anything between $65 to $150 per m2. On average, expect to pay closer to $120 per square meter. While it's more expensive than plain concrete and polished concrete, a textured finish in line with the cost of exposed aggregate and other decorative types of concrete which can set you back between $100 and $150 per square meter.
How to Choose a Concrete Company in Melbourne?
What makes this type of concrete such a popular choice is its visual appeal. However, the appearance of your concrete comes down to the skill and experience of the concreting team you choose. So, you'll want to ensure that you take the time to screen different contractors to find one that has completed similar projects before and delivered beautiful results.
To help you with the vetting process, there are several questions that you can ask. First and foremost, you should find out how much experience they have behind their name. More specifically, you want to find out how much experience they have working with concrete.
Customer references are another key consideration. If the concrete installer has been in business for several years already, they should have references for their hard work and professionalism. While you can do a quick search online, it's also recommended that you ask potential contractors for a portfolio that showcases past projects and a list of testimonials.
In addition to experience and customer references, here are examples of other important questions that you can ask to find the most suitable concrete contractor in Melbourne:
"Are you licensed and insured to complete the work?"

"Do you offer any guarantees or warranties?"

"How often do you complete textured concreting?"

"Which similar projects have you completed?"

"Do I need any permits or permissions? If so, do I need to apply for it or will the company?"

"How much time will you need to complete this project from start to finish?"

"How does the process work?"

"How long will I need to stay off the surface?"

"Do you offer any services to clean and/or help maintain texture concrete?"

"Who will be responsible for cleaning up the site after the project has been completed?"

"How many workers are part of your team?"

"Which safety protocols do you follow?"

"Do you require a deposit?"
Hire Concept Concrete to Add Striking Texture to Plain Concrete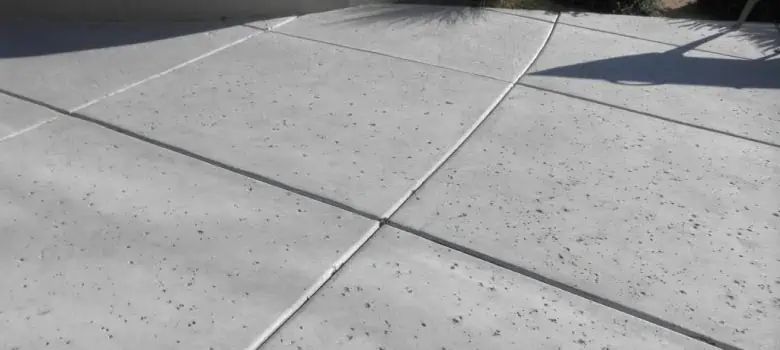 With the right finish and skills, concrete surfaces can be as beautiful as they are durable. From flowing circular motions to dramatic lines, there are various ways in which you can let your concrete floors come to life and stand out.
The Concept Concrete team in Melbourne is always an email or phone call away. For all things concrete, you can count on us. Not only do we deliver an experienced and professional team who treats your home like it is our own, but we also take great pride in our services. With the help of modern concrete that is functional and sustainable, we can transform virtually any surface – including yours!
Our work and professionalism have gained us an excellent reputation as one of the top concrete companies in Melbourne and the surrounding areas. To back up our reputation, we're also a registered building practitioner and offer a warranty of up to 78 months on structure for your complete peace of mind.
Let us improve the feel and appearance of your concrete surfaces by adding an attractive, textured quality. Call us on 1300 366 343 to find out more about all of our services or request a free quote online today.
Up to 78 month warranty on structure
We have an excellent reputation for high quality, reliable and professional service
Family owned and run business
High Quality and professionally done projects
Modern and custom concrete design
Hassle-free and fast turnaround projects
Get onsite quotes – guaranteed
Proud member of Master Builders Association
Registered Building Practitioner
Highly trained and experienced concrete company.
Get A Quote
Choose us if you're looking for professional, quality workmanship and experienced concrete company.