Sustainable Concrete Driveways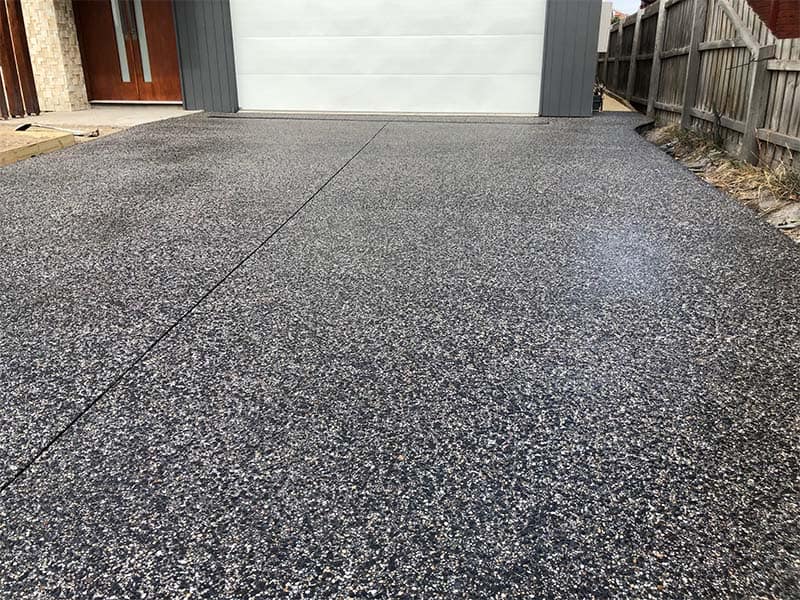 Are you looking for a concrete driveway installation company that you can rely on in or around Melbourne? We're here to help!
The pathway to your home tells people a lot about how you want to be viewed. Though a new living room sofa suite may take the front seat on your priority list, it is essential to understand that the exteriors of your home or office are as important as the interiors.
More often than not, it makes a lasting first impression, so make sure it's a good one. In the corporate society where the competition is neck to neck, getting the right aggregate driveway that will, in turn, pave your way to building a better brand image. You may not consider it but inviting concrete driveways and hassle-free parking spaces are sure to enhance your client base.
Some people choose to keep it simple yet sophisticated whereas others choose a vibrant and colourful design. Whatever your choice might be, it is important to hire the right people and have a detailed plan of what you would like your pathway to look like.
If you want to learn more about concrete driveways, check out our resources:
1. How Much Does a Concrete Driveway Cost
2. Asphalt vs Concrete Driveways: Why Concrete Is Often the Better Choice
3. How Long Does It Take for Driveway Sealant to Dry?
4. Concrete Driveway Installation
5. What Are The Most Common Types of Concrete Driveways?
What can a spruced up driveway do for you?
Here are a few impressive benefits that a dressed-up pathway can give you:
First impressions: The exterior of a place is the first thing that an individual notices. This is your chance to stand out from the rest and give your place a new look! Your driveway is a reflection of what is inside your hotel, office or factory and it sets the mood of your property as a whole.
Value addition: If you are looking to sell your property in the future, a spruced up pathway is a pleasant invitation to higher property value and happier customers who will not have to spend their time redoing or upgrading the Melbourne driveway.
Functionality and parking: Other than being a valuable addition to your property, it also takes care of your parking needs. A resilient driveway not only carries the weight of wear and tear from passing cars but also provides a surface to walk and play. Pathways help landscape the front garden and provide for parking space as well.
Benefits of Melbourne Concrete Driveways
Durable & long-lasting
Environmental Friendly
Looks natural yet appealing
Easy to clean and maintain, almost next to no maintenance
It can easily go along with your architecture and surroundings as it's customisable
Cost-effective
Widely used
Affordable
How to choose the right option
We specialise in architectural pavement and formwork design, for both the domestic and commercial purposes. Our wide range of services includes landscaping, construction and building advice for your upcoming project. We address all your driveway related queries with high-quality concrete and exposed aggregate solutions. You can choose to revamp your pathway with any of the following materials:
Exposed aggregate: Its premium and contemporary appearance revealing the natural texture of numerous stones like pebbles, shells and crushed stone make it a popular choice.
Coloured concrete: Its durability and range of colours make it a great choice.
Plain concrete: This is an inexpensive way to give your exposed aggregate driveway a sophisticated and new look.
Other options include pave cut concrete, concrete slabs, foundations and footings. Whatever your choice may be, we are here to guide you each step of the way.
Transform your pathway with the help of our professional team of tradespeople who are sure to provide you with excellent workmanship and a great finish.
For hassle-free, high quality, low maintenance, modern and custom-designed Melbourne driveways, call us on 1300 366 343.
How do I choose the right concrete professional to get the best driveway?
It's always important to get the best concrete professional that you can find. But when it comes to stamped and stencilled concrete, you need to be even more selective. Great care, experience, and patience are needed. Ask the concrete professional if they have references, testimonials, and social proofs. Also, ask how long they have been in business. You want to find one that has the experience, above all.
Remember that you don't want to look for a general builder that happens to do some work with concrete. This might suffice for plain concrete at a stretch, but for more sophisticated kinds of concrete, you will be looking for a service that specialises in it and that has extensive experience.
You'll also only want to work with concrete professionals that offer a workmanship warranty on products. Otherwise, you won't have any guarantee that the work will be up to a high standard.
Frequently Asked Questions About Concrete Driveways in Melbourne
Up to 78 month warranty on structure
We have an excellent reputation for high quality, reliable and professional service
Family owned and run business
High Quality and professionally done projects
Modern and custom concrete design
Hassle-free and fast turnaround projects
Get onsite quotes – guaranteed
Proud member of Master Builders Association
Registered Building Practitioner
Highly trained and experienced concrete company.
Get A Quote
Choose us if you're looking for professional, quality workmanship and experienced concrete company.